Join today
Beginners Classic Lashes -Fundamentals
JUlia Mann- Lash Tribe Founder
Welcome | future Lash Boss! | Be part of our Tribe!
This fundamental Course is perfect for total beginners, that have NEVER done lashes before or those that wish to take a refresher course.
It is incredibly in depth with over 46 lessons and will give you everything you need to start your own lash career.

I have been teaching this course since 2016 and add ever evolving lessons & teachings regularly.


64+ lessons

1 NALA Accredited Certification

20+ Questions

45+ Videos

PDF Workbooks, Forms

Life-Time Access & Support
Become a Lash Artist
After completion of this course, you will have learnt how to confidently and safely apply beautiful classic eyelash extensions to deliver stunning sets to your clients and stand out from other salons.
Get your first 10 clients
We have also included our business lessons and will help you to gain your first 10 paying clients in your lash business with these simple, yet effective methods.
You won't need to spend money on expensive advertising if you follow these steps.
Become Part Of One Of The Fastest-Growing Industries.
Are you ready to become an amazing Lash Artist?
Now is the right time.
This industry is incredibly rewarding and has fulfilled so many dreams for people across the world.
It's ever-growing, exciting, and of course profitable!
If you are serious about taking it to the next level enroll today and learn the Art of Lashes.
Watch. Read. Learn. Practice.Improve.
The skills you need to start out as a lash professional. Thrive in your new career and fine tune your skills.


Who is this course for?
You have never done lashes before

You are ready to take action and make this lash business a proper business



You wanna feel confident at dealing with clients and their individual needs

Or you have done a course or two before but they weren't very good and you are not confident enough.

You would like to be surrounded by like-minded people that can offer you ongoing support

You wanna stop the overwhelm and actually get a step by step process or applying eyelash extensions safely and make your clients happy.
You want to be a stand out Lash Artist in your area that clients love and recommend?
We got you.


Become Part of our Tribe.
The biggest lash extensions and business online learning Platform in the world.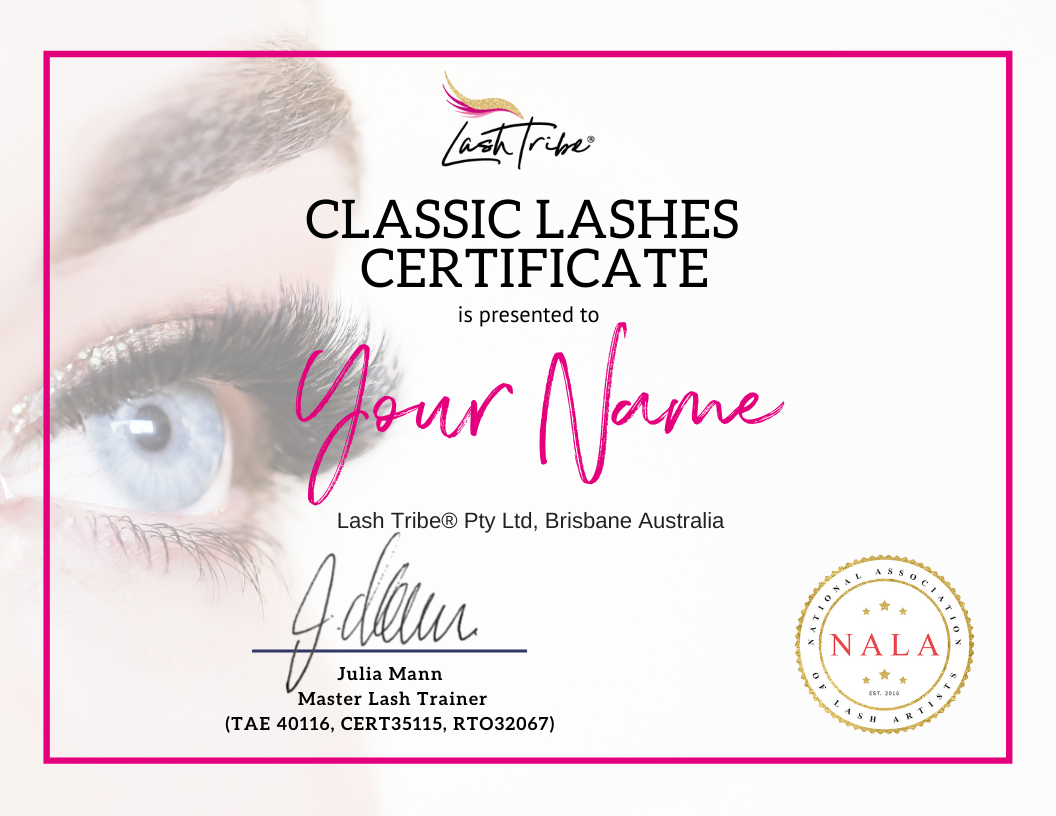 Our tribe
What our Tribe has to say 🥰
Julia Mann
Julia Mann is a multi-award winning Lash Artist since 2010 and started training others in 2016.
She created the first free help group for lashes on FB many years ago, with tens of thousands of members from all over the world.
Julia has been traveling the world, training new and existing lash artists. Julia enjoys teaching all levels of Lash Artists. She looks forward to sharing her love of creating stunning lashes and attract a sea of clients.
Frequently asked questions
I have already been doing classic lashes for a while but want to update my skills. Is this course still suitable for me?
Yes, Absolutely! This course is perfect for up-skilling as the methods are constantly updated to suit our ever-growing industry. We have a lot more content than a lot of other providers as well, being NALA accredited.
Do I have a time limit of when I can access the Course and it's contents?
No. Once you have purchased this full course, you will have lifetime access and can access the Course as many times and whenever you wish.
Does the Course come with a kit?
We give future students the option with and without kit.
At www.lashtribeshop.com you will be able to purchase any kits and future products at a 20% student discount for life. You may also buy the course on there inclusive of the kit, however this is extra.
Will I received a certificate that is valid in my country?
Once you have handed in all of your case studies, you will be given a Lash Tribe certificate of completion with a NALA Seal of accreditation.
Always check our own countries rules and regulations. Some US States and the UK may require an extra beauty license.
How long will it take me to complete this course?
That is a loaded question and cannot be answered simply as everyone learns at a different pace.
The Content alone will take you around 2-3 weeks full time.
We have had students in the past that completed our course and got their certificate in 2 months, others in 1 year.
It all depends on your dedication and how much time you have;
If you are not doing many clients or models it will take you even longer to get your certification.

We do recommend to complete this course and certification within 6 months, so the information stays fresh.
Will I get any support if I have questions?
Absolutely! We pride ourselves to be the most supportive lash community . You will have 24/7 on demand access and support via email, our Course platform, as well as via our VIP FB Groups. Support is yours FOR LIFE!