Full Lash Tribe Academy Subscription
Learn lashes at your own pace & at the fraction of the price of a full online course.
Get all of Lash Tribe's award winning online lash courses in 1 amazing Subscription.

For those that want it all and all the benefits of a subscription model, with access for as long as they are a member.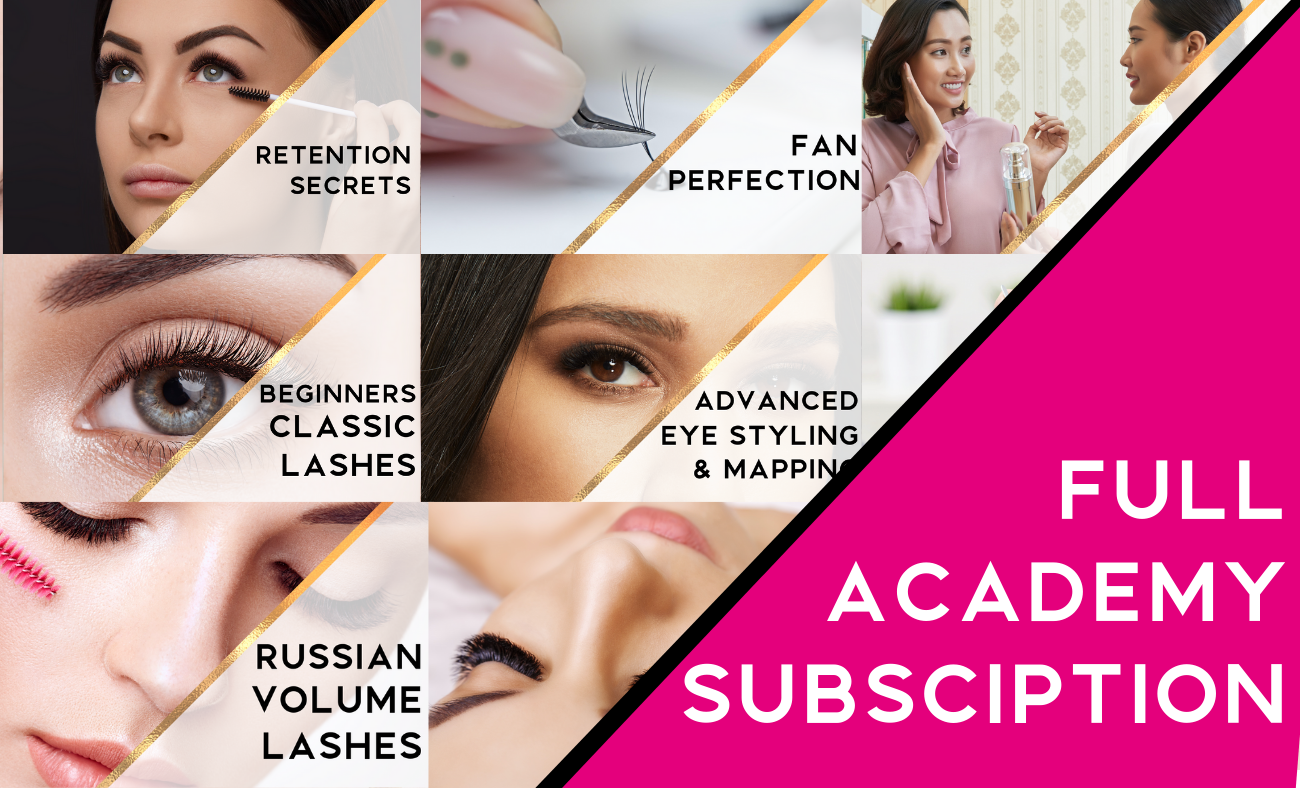 Watch. Learn.Apply. Improve.Ask.
The skills you need to become a stand out Lash Artist. Thrive in your lash career.


Lash Tribe Academy is a subscription based membership.
This is perfect for those that would simply like to try out any of our courses, would like access to everything or simply aren't ready to invest in a full course.
You will receive access to all Lash Tribe Lash Online Courses, paying a weekly fee of AUD $29 for this access. You will be able to watch your content within your very own website for as long as you are an active member.
The Benefits of our Membership
No once off high fee
If you are not quite ready to buy access to a full online course, our subscription model will help you to get to know our online courses on a weekly subscription base.
Expert instructors
Decades of industry experience is shared throughout the courses, with quality training, updated education and even LIVE Trainings within our platfor.
Satisfaction guaranteed
Studying with us will help you learn how to create stunning lashes for your clients, as well as gain new customers.
Material you'll love
Video interactions, note-taking, interactive ebooks, self-assessment, certificates, much more.
Certification
Receive certificates by handing in case studies. We are a NALA accredited Academy. Our students' success is our best asset in showing the quality of our training.
Simple weekly payment options
Only pay AUD$29 per week to gain and keep your course access.
Cancel anytime. No lock in contracts.:-)
Here is what's included
\Learnworlds\Codeneurons\Pages\ZoneRenderers\CourseCards
Here is how you can save with a Subscription
Kick Starter Bundle
Newbie Lash Artists
$997
Billed once
Life-time access to 2 courses

1:1 Support

COmMunity for life

20% off products for Life
Lash Tribe
Subscription
Subscribe to all of our courses.
Suitable for anyone in lashes.
New or advanced.
Billed weekly.
Basic Features are active as long as you are subscribed:
20% off products code

Access to ALL 9 Lash Courses with an active subscription

Community Access

Certification available

no lock in contracts- Cancel anytime
FULL Academy Bundle
For anyone in lashes & those who want it all and want to keep it for life
$2997
Billed once


Life-Time access to all courses

1:1 Support

Community for Life

20% off products for life
Frequently asked questions
Do I get a certificate with all courses no matter how long I am subscribed for?
Yes and No.
Earning a Lash Tribe Certificate takes time, skill and tenacity.

Please note, that this subscription is not designed for anyone to earn ALL certificates in 1 week and then unsubscribe.

It is designed as your personal all in 1 lash training platform...
For you to have access to whatever you need whenever you need it and work towards each certificate.

The following Courses include a certificate after completion Quizzes and 3-5 Case Studies per course.

Usual Timing with Case Studies where required:

Classic Course: 3-4 months
Russian Volume Course: 3 months
Mega Volume: 1-2 months
Styling: 3-4 weeks
Fan Perfection: 3-4 weeks
Eye and Lash Health: 1-2 weeks
Retention Secrets: 1-2 weeks

PLEASE NOTE: If we feel, you are only subscribed to rush through the courses to receive our sought after certificates, you are not in the right place and we will not be letting you hand in your case studies.

How long do I need to be subscribed for?
There are no lock in contracts with this Subscription. It is designed as your ALL in 1 Lash Training Platform you can use as as beginner or advanced technician for as little or as long as you like.
What else is included in the Subscription?
You will, have full access to:
Classic Course
Russian Volume
Mega Volume
Styling
Fan Perfection
Eye and Lash Health
Retention Secrets
Salon Sales
Money Mastery
PLUS NEW Business tips to get your 1st 10 clients into the door.
You will also receive a 20% off Student Discount Code that you can use for all Lash Tribe Products, as well as Kits.
Access to the online community and your very own learning platform with pre-recorded lessons that are constantly updated as this Industry grows and changes.
How long does each course take to complete?
How long each course takes to complete is totally up to each individual. Some students may finish their Classic Course within 4-8 weeks full time, doing their 5 case studies and passing right away, whilst others may take 6-8 months to hand in their case studies and only do the course every now and then. Each course listed on this website has all timings and inclusions listed.

If you were to do each course individually, the following timing may occur , but is not standardised.
Please note, all courses, apart from Classic, will require you to have classic lashes experience.
So please do your classic course first , before moving onto other courses.

Timing with Case Studies where required:
Classic Course: 3-4 months
Russian Volume Course: 3 months
Mega Volume: 1-2 months
Styling: 3-4 weeks
Fan Perfection: 3-4 weeks
Eye and Lash Health: 1-2 weeks
Retention Secrets: 1-2 weeks
Salon Sales: 1 week
Money Mastery: 1 week




Join the Tribe| Start and grow | a successful Lash Business
Lash Extensions Masterclasses
with award Winning Academy.
"I wouldn't be where I am today without the Lash Tribe Courses. I went from a few clients to fully booked and now even training others."
Paola Darcera